Hitler in Royal Family fancy dress outrage



London -- Eisenhower in new call for Hitler "apology".

In the latest gaffe by our head of state, pictures of Hitler dressed as the royal family have been circulating the press, fuelling rumours that senior members of the High command are "out of touch".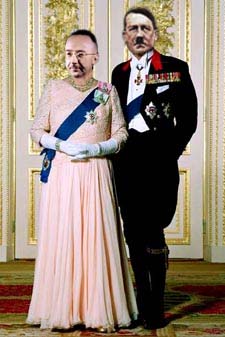 Corgies
At a recent fancy dress ball, revellers were astounded to see our beloved Fuhrer, leader of the german people and greatest military commander of all time, dressed in the regalia associated with the disgraced British monarchy; including bizarre military uniforms, dead furry animals and diamond tiaras.

Sources say he was accompanied by the Reichsfuhrer SS Heinrich Himmler, though at this time we are unable to verify whether he was also in fancy dress.

The Fuhrer's actions have again sparked angry condemnation by human rights activists and the Animal welfare lobby, who have branded this latest outrage "immature".

Ascot
According to one student activist "It's important that he remembers the evil that the monarchy stands for, and publicly apologises for the offence that it has caused the people of Dachshund".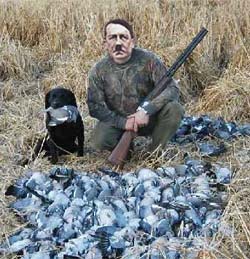 Another said: "it's pretty reprehensible that someone sold these pictures to the papers, but at the same time, the photo of him with all those dead animals after a boozy hunting trip to Balmoral is truly disgusting".

A spokesman from the monarchy, when pressed about the issue, said that this was typical of the narrow minded view that people have nowadays of the British Monarchy.