High Fashion
With the Western powers' latest third world adventures, fascist chic has never been more popular - or profitable!
Our stores stock a range of the finest black leather, designed specifically to intimidate frenchmen and titillate small minded women.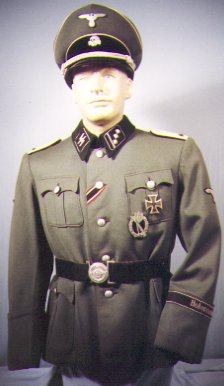 New for Spring - the Sturmbannfuehrer range

Black is officially the new brown! After the night of the long knives, noone would be seen dead in brown, and these little numbers will have you again goosestepping nimbly from wine bar to wine bar.

Handmade from pure bavarian wool by a largely captive population of foreign workers, this uniform's flimsy construction and lightweight material is perfect for a long protracted war of attrition in Russia.

Complementing this outfit is a range of specially designed morale boosting medals, ribbons and logos.