Ready to wear
A range of rough and ready combat clothing for those of you who prefer the great outdoors and the comfort of a warm foxhole.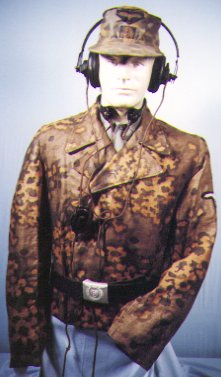 Out this Summer- the Panzer camo and integrated mobile phone combo.

This range, as officially worn by our very own Herr Whittman, is specifically engineered for comfort and the pattern is such that many days of food spillages and dribbling will be invisible, making it perfect for either a week of serious partying or your first year as a student.

Notice the optional hands-free mobile phone kit, essential for sending your friends pointless text messages and annoying people on public transport. With our new co-marketing initiative with a major mobile phone company, we can offer you free text and picture messaging, free round the clock email access and some rather absurd games for a really quite reasonable fee.