Accessories - no uniform is complete without them
Its a universally acknowledged fact that adornments, gadgets and costume jewellry are very high-mark up items, and we'll do our best to sell you as much of this stuff as we can.
Cuff-titles.

Range of medals
Just like the real thing, these medals are signs of status, gallantry and having highly placed chums in the high command.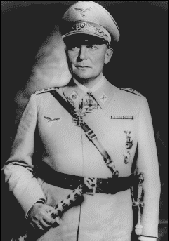 Belts, ribbons, sashes
Used for adding a splash of colour to an otherwise austere uniform. Available in Black, silver or red, or as a special commemorative combo. New for 42 is the Goerring special: a ludicrous assortment of paraphernalia designed to cover up an enormous bloated body.


Knives and Guns
No fascion conscious consumer should be without these handy little items. Not only do they look good, they are also excellent for settling border disputes and securing much needed mineral supplies.